West Village NYC Condo
Designed and developed marketing strategy, interior design, website and multimedia materials for West Village NYC Condo in conjunction with Corcoran. Featured in New York Post and Brokers Weekly.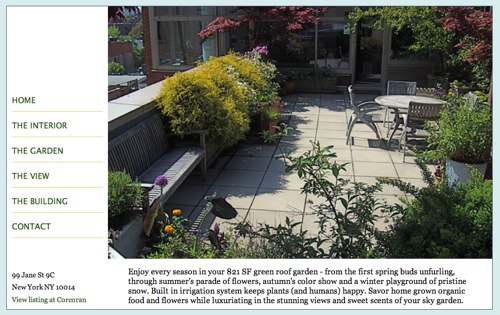 7/30/2008 | Source: Brokers Weekly
Jane Street sale a piece of cake
It took Corcoran Group broker Debra Kavaler only nine days to broker a $4.4 million deal from start to finish earlier this month.
The first showings for the apartment at 99 Jane Street were on June 9. An offer was accepted June 11 and a contract signed on June 18. During the three days of showings, Kavaler showed the home 15 times and had multiple offers. She continued to show selectively for backup, but had the contract signed in seven days and closed less than 21 days later.
The apartment totals 1,916 s/f and has an 821 s/f landscaped terrace.