Early Sites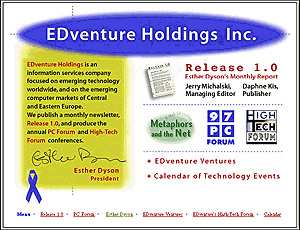 Esther Dyson's company, EDventure Holdings, is known internationally for Release 1.0, a prescient Industry newsletter and for their annual conferences, the PC Forum and EDventure's High-Tech Forum. Their site had to be graphically interesting without being slow, able to grow and change with the company's events and activities and process subscriptions and registrations for their newsletters and conferences.
PC Forum 96 The Future Now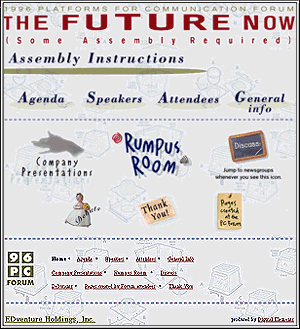 The theme for EDventure Holding's 19th annual P.C. (Platforms for Communications) Forum was The Future Now: Some Assembly Required. The same theme applied to the conference Web site. Approximately 50 networked computers were placed around the Tuscon Westin La Paloma where the conference was held, and the PC Forum site served as a guide to help attendees organize themselves along with showcasing the latest Internet technologies and providing an interface for hands-on experimentation with content-generating tools.
Features:
Java banner updating events and comments as the site progressed
Opportunity for attendees to create their own Web pages that became dynamically linked to their names in the directory
Quicksilver zoomable vector drawings that provided information about the Rumpus Room.
Scheduled site updates with each panel
PC Forum 97 The Living Web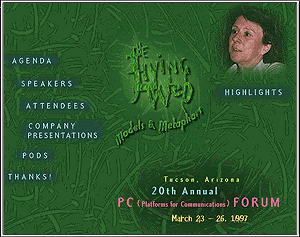 EDventure Holding's 20th annual P.C. (Platforms for Communications Conference) Forum featured the theme: The Living Web: Models and Metaphors. The conference site ran locally and was featured on approximately 40 computers spread throughout the Westin La Paloma, each equipped with Netscape 4(beta2). Because of this controlled environment, we were able to push the browser's envelope and create a stunning site that looked alive.
In addition to the general conference site, 7 physical pods were constructed that centered on a different metaphor for looking at the Net. Each pod had it's own graphic identity and function — since the conference has ended, this area has expanded to become Metaphors and the Net.
Features:
Use of Netscape layers for dynamic effects
Online poll with real-time charts generated through Cold Fusion and Crystal Reports
VDO Video highlights from panels updated daily
Speaker images morphed from current age to 20 years ago
Metaphors and the Net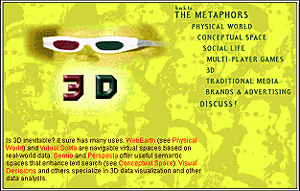 Metaphors and the Net takes off where the 1997 PC Forum ends. In transforming the Pods from the Forum into part of the EDventure Web site, we worked to include the kind of discussion that went on in person — online.
Features:
Discussion groups through Screenporch Caucus
Dynamic menus and logos
Online brands poll that generates real-time graphs
Unique graphic identity for each metaphor
The Mitchell Gold Company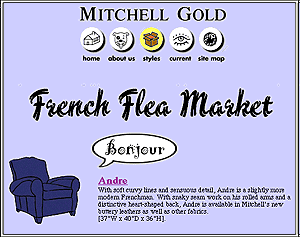 The Mitchell Gold Company manufactures beautiful furniture for relaxed styles of living. The company's great sense of style and sense of humor is translated into this award-winning Web site.
Features:
"Remote control" pop-up site menu
Change your slipcover java applet
Whimsical graphics and illustration style